You are currently browsing the category archive for the 'form and function' category.
…from Rebecca's Misc.   Make sure to check out her artwork here.   She has a really interesting style and I just love the colors she chooses!

My husband is related to the blushing bride.  Isn't this a beautiful (albeit chilly) wedding?  Photography is by BenjHaisch.
Dear Friends, I don't know if you remember about 1,ooo years ago I did a wee blog post about Rachel Rose.  She makes these amazing inkblot silk tees.  I was just perusing her blog and was happy to see that not only is she an amazing artisan, she believes in taking responsibility for production every step of the way.  That way, nobody gets hurt.  Literally.  It always upsets me when I wonder who made my clothes, and were they working in good conditions, etc. etc.
It looks like Rachel may be restocking her online shop and her Etsy shop. I just love her style, so I will be checking back soon to see what she is up to!

These are two things I decided I would use once I turned thirty.  So far, I'm doing…okay.  This smallish pink accordion file with cute glitter stickers from Target has been cast to a drawer because I kept losing coupons in it.  Now, I'm paper-clipping them to the tops of their sections inside so they don't get lost at the bottom.  I found this faded pink beauty at my grandma's house.  I love things that have a story behind them, don't you?  My mom will find great satisfaction in me "going vintage" because as a child I turned up my  nose at anything that wasn't brand-new.  So…YOU WERE RIGHT, MOM.  Note to self:  Buy more retinol.  And figure out what the heck it really is, anyway.
I am learning how to be a slob.  I know this looks super anal and coordinated.  But I'll share a secret with you.  When you're limited on primping time, if everything you own is somewhat color-coordinated, you could get dressed in the dark.  Or in two seconds.  See?  It's like being a sneaky-slob.  A sneaky-somewhat-stylish-slob.  Also, I'm posting this in hopes Carm will take a peek and tell me if I'm on the right track for Seattle weather.  Can't wait for our visit, girls.  It will be sweet, albeit short.
Update:  Carmen says on the phone, "You're just NOW learning to be a slob!?"  Like she doesn't believe me or something. Rich.

Dear friends, ever since I found out that it is way better for the environment to go to the carwash than to wash you car at home, I use this excuse for a little cheap entertainment.  Don't you love the colored soap?  Honestly, I didn't grow up going to the carwash that often, and I don't really remember the colored soap.  So, I always go for the super deluxe option and my boy and I have the best time!
Then, as if that color show wasn't good enough, I got home and found these Nerd candies and noticed the color similarities.  It is connections like these that are always happening in my brain and almost makes it short out from sheer happiness.  It doesn't take much.  I grew up without a television, what can I say.

I think I might have lied about the planes part.  But check out this all-terrain firetruck.  I have to admit, being a girly girl, I thought I was going to this event mostly for my 'boys,' but when the fireman started explaining that this rig can hold 25,000 gallons of water, and it has joysticks to control the water sprayers in the front…I was pretty smitten with this thing.  Also, since they usually use this truck out in nature, the driver can adjust to the tire pressure while driving.  Sand?  No problem?  Burning foothills? No problem.  But, of course, my first love are the surfaces and textures and colors.  See the Michelin Man?
Dorado Office Chair-$149.99 Target.  Already out of stock.  Come back!  3 out of 4 reviewers liked this one.
Ikea Henriksal Chair–  It's upholstered so it's got to be more comfortable than the chair I'm sitting in now.
Ikea Skruvstka Chair– $149.  Husby might go for this one!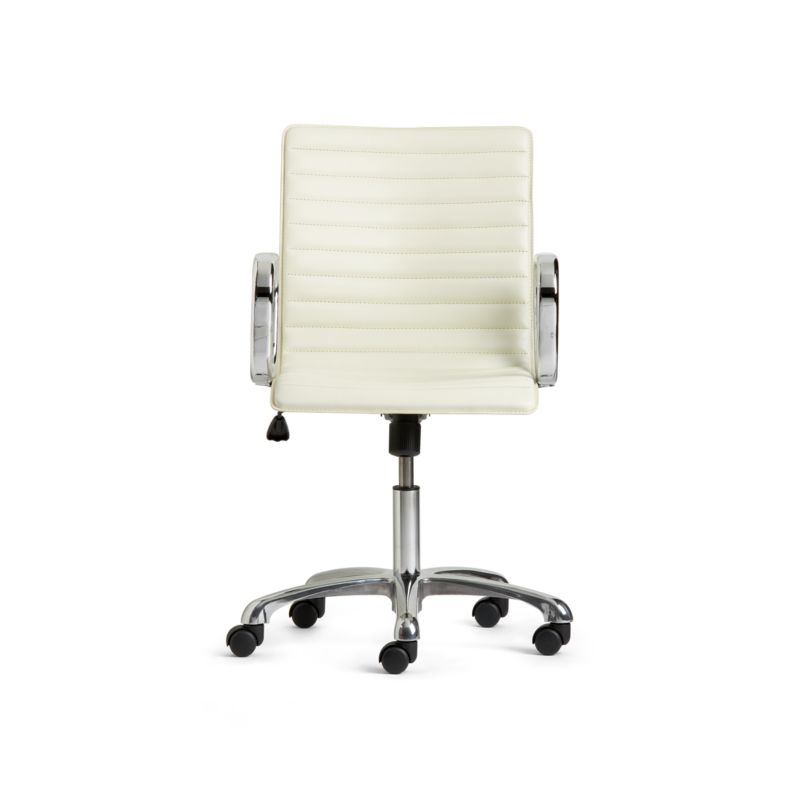 Crate and Barrel Ripple Ivory Leather Office Chair $299.00 Uh. Oh.  Husby is going to want this one. Me too, but what a splurge!  I am going to try to talk him out of something I want.  Why do I do this?  And look at it below, from the side!  Oh, you sweet thing you!  Okay, in case you think I'm nuts for considering talking my husband out of this, I guess I should tell you my reservations.  Our double-desk is on carpet.  So, we don't really need wheels.  It is also in a living space, so I'm wondering if we should go with a comfy upholstered side chair that can also double as a guest chair.  Not that guests wouldn't want to sit in this number, but I just mean a more traditional looking non-desky chair.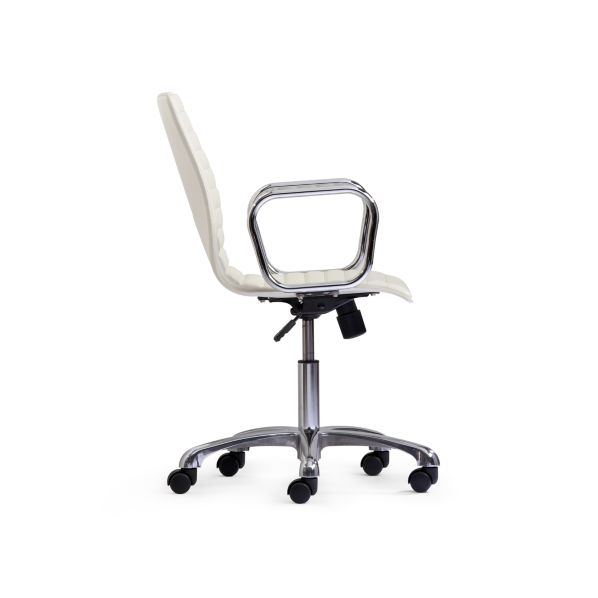 Pantograph-For those of you who have never used these, I've just started and they are fun!  When I'm working on a portrait that will be done to a much different scale than the original photo, the pantograph can be a good way to change the scale accurately.  It traces over the orignal with a 'dummy' pencil and creates an enlarged (or reduced) version with the other pencil.  You just choose the ratio and put the pantograph together on the ratio you want to use.  I have found that, sadly, it does not replace the need for drawing ability, because it doesn't really make the person's face look like the person.  But, it can give you helpful landmarks so you don't have to reinvent the wheel.
Graham and Brown Wallpaper– I find this inspiring!  I don't think it will go in my office but in the closet near my office.  It's a hogpile and I think putting this special paper in it will invite order.  When I have a chance to put up little pieces of artwork, it motivates me to be neater.  See?  All those psychology classes paid off.  I'm tricking myself out of being a slob!