You are currently browsing the category archive for the 'Takin' Care of Business' category.
…maybe I should finish those beach paintings!  Sometimes I blog just to tell my self to do stuff.  Self!  Finish your beach paintings!

Hello there, friends!  Sometimes when a blogger doesn't post in a while it is because s/he hasn't got anything to say.  Or sometimes…she has so much to say she doesn't know when to start.  Yes.  The glitter, photos, paint, tape, chalk, oil paint, etc. has been flying around here.  Also, I've had houseguests (and been one).  Anyway.  Here's what I've been up to:  

Framed Photos coming soon to a bistro near you. Really!  No copying images without permission, please.
  Chevron table.  Lots of taping and eyeballing going on here.
I used that thick painter's tape to determine the width of the zigzags.  I put it on twice as much as I needed (see top) so I wouldn't have to pencil mark on the table.  It's not super perfect but…
I did measure occasionally to make sure I was in the ballpark.
Something with a straight edge will help the eyeballing process.  This dowel is actually an item from the next project…
Remember these?
They are actually the tops of magic wands!
Remember this painting?
Each of the 3 panels are now dry.  Time to clean up the horizon line and finish the beach grass!
Hello!
Today at the Richland Farmer's Market I tasted the most delicious goat cheese with pesto and sundried tomatoes from Cheese Louise, sampled and purchased sweet strawberries, bought fresh asparagus, turnip greens and bearded iris, and stopped for a bite to eat at Frost Me Sweet.  One turkey sandwich was plenty for both of us!  I wonder, is going full-body into the fountain frowned upon?  Probably.
We also visited Miss Bonnie at Wild Goose Designs and bought a completely fabulous ring.  I believe my description of it was "I love how the old-world feel of the mother of pearl is combined with the very modern angular wood setting." And instead of laughing me out of the store, Bonnie complimented me on my eye for detail. 🙂
                       Note to self: Look into this place!
Stopped for a bite to eat at Frost Me Sweet (bakery and bistro).  For more eye candy, you'll want to                         read the post I did of their opening day, here.
So, I'm looking for a new desk chair, I've got my painting area carved out of the living room, I've got my Washington business license after moving from Nashville, I've got mah blog, and now…I'm trying to decide which business cards to print.  Big or small?  Or both?  Or start from scratch?  
Dorado Office Chair-$149.99 Target.  Already out of stock.  Come back!  3 out of 4 reviewers liked this one.
Ikea Henriksal Chair–  It's upholstered so it's got to be more comfortable than the chair I'm sitting in now.
Ikea Skruvstka Chair– $149.  Husby might go for this one!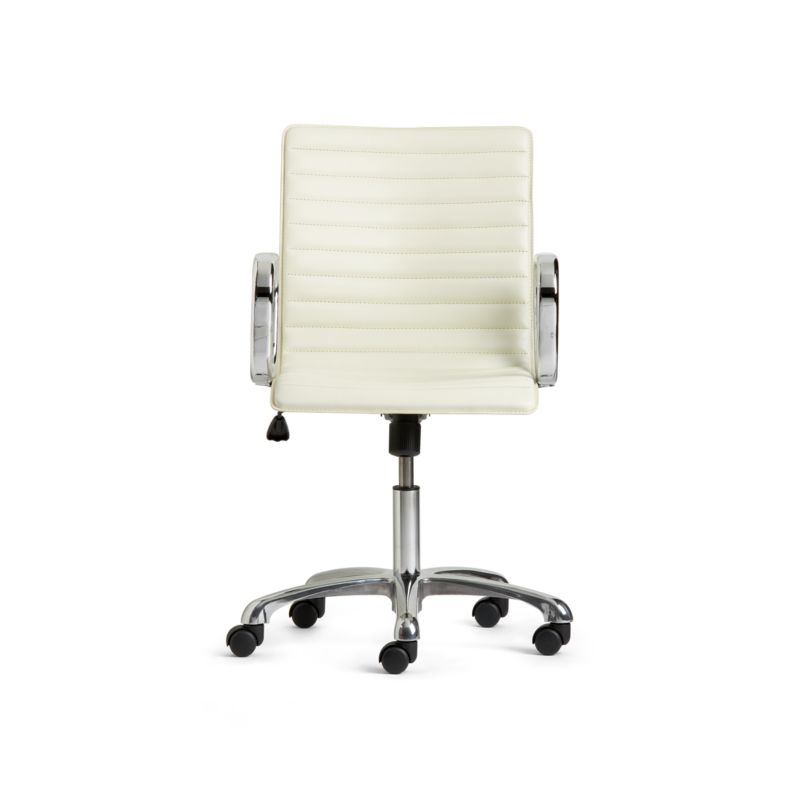 Crate and Barrel Ripple Ivory Leather Office Chair $299.00 Uh. Oh.  Husby is going to want this one. Me too, but what a splurge!  I am going to try to talk him out of something I want.  Why do I do this?  And look at it below, from the side!  Oh, you sweet thing you!  Okay, in case you think I'm nuts for considering talking my husband out of this, I guess I should tell you my reservations.  Our double-desk is on carpet.  So, we don't really need wheels.  It is also in a living space, so I'm wondering if we should go with a comfy upholstered side chair that can also double as a guest chair.  Not that guests wouldn't want to sit in this number, but I just mean a more traditional looking non-desky chair.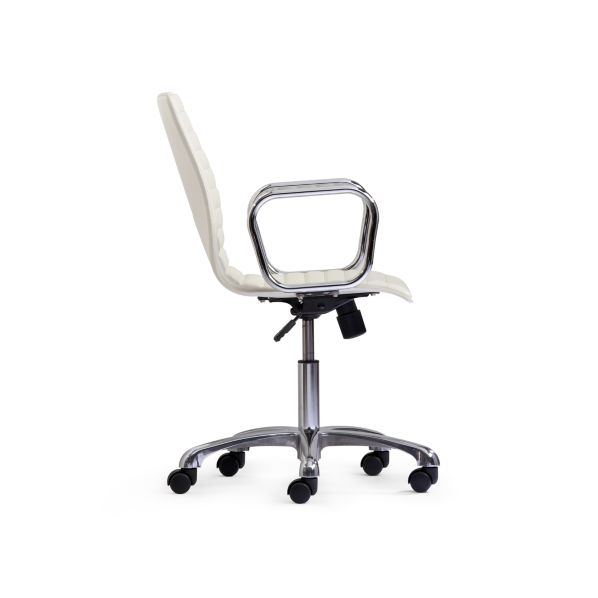 Pantograph-For those of you who have never used these, I've just started and they are fun!  When I'm working on a portrait that will be done to a much different scale than the original photo, the pantograph can be a good way to change the scale accurately.  It traces over the orignal with a 'dummy' pencil and creates an enlarged (or reduced) version with the other pencil.  You just choose the ratio and put the pantograph together on the ratio you want to use.  I have found that, sadly, it does not replace the need for drawing ability, because it doesn't really make the person's face look like the person.  But, it can give you helpful landmarks so you don't have to reinvent the wheel.
Graham and Brown Wallpaper– I find this inspiring!  I don't think it will go in my office but in the closet near my office.  It's a hogpile and I think putting this special paper in it will invite order.  When I have a chance to put up little pieces of artwork, it motivates me to be neater.  See?  All those psychology classes paid off.  I'm tricking myself out of being a slob!

Dear Friends, I told you art was all around us!  Help!!!   But don't worry, sometimes you have to make a mess to get cleaned up.  If you want to see some of these collages up close (immediately below) you can view them at hannahmcdonald.com.
Inspiration comes from anywhere.  I am trying to limit 'anywhere' to 'inspiration files + stuff that does not fit in my inspiration files.'  Artsy people sometimes try to get away with being disorganized, but I say it is ill advised.  Although, have heart.  Sometimes you have to make a mess in order to get organized, and that's okay.  Now, where did I put my darn business license?  Kidding!!